ACEBI introduces its new range of rescue boat (semirigid or rigid) systems to suit every marine application : merchant vessels, passenger vessels and offshore.
These boats can be used as Service / Work boats or lifeboats. The design focus is on functionality. We design davits specifically for each type of Service / Work that will be demanded of them. Our special designs ensure excellent stability and optimal working conditions on board, even in rough sea conditions.
Our rescue boats are delivered with either outboard petrol engines or inboard diesel engines. The boats are built of GRP on aluminium, with a low freeboard to facilitate rescue operations.
Self-bailing, with ample deck space, self-righting capacity and a sturdy foam-filled fender, the boats are supplied with an inboard diesel engine and water jet propulsion unit, or an outboard petrol engine. Our specially-developed davits with shock absorbers and tension systems for severe weather conditions allow our rescue boats to be launched from a mother ship even in heavy sea conditions.
The boats meet current IMO/SOLAS regulations MED 96 / 98 AC.
Our boats and equipment are fully compliant with the latest SOLAS regulations and amendments, and are EC-labelled in accordance with the Marine Equipment Directive.
Life Rafts and Survival Equipment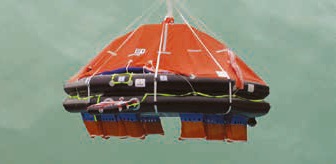 In addition to more traditional lifeboats, or for smaller ships not requiring such equipment, we provide liferafts complete with our davits, as a complete package.
Our systems fulfil all the latest directive requirements and can match every case, with the option of a fully integrated system (in the ship's hull) and/or a more traditional davit having variable boom length.
LIFERAFTS
These liferafts are built and approved to the latest IMO requirements, and have EC markings as per the MED circular.
The design is patented, and a European application is in process.
Throw Overboard Liferafts
Tilting cradles are available in steel, aluminium or stainless steel. These cradles are to be completed with a lashing arrangement and a hydrostatic release unit.
SR : Self-Righting
A Pack : including survival kit
B pack : without survival kit